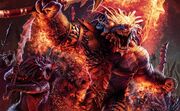 It is an army
Dragons
soldiers that listens to the
Dragon Emperor
every command. They are mostly used for conqueroring, guarding and warnings. They are vicious and merciless soldiers that why this army is one of the most successful in history. It was organized by the
First Dragon Emperor
with mixture of dragon (
monsters
) in
human
form and converted humans.
Structure
Edit
Dragon Emperor (direct all dragon activities)
Noble Dragon Council (noble dragons that act as the government for the Dragon World)
Dragon General (control all dragon military activities)
Dragon Commanders (squad leaders of the Dragon Empire)
Dragon Soldiers (this consist of all dragon warriors that are not commanders or general)
Notable Members
Edit
Ad blocker interference detected!
Wikia is a free-to-use site that makes money from advertising. We have a modified experience for viewers using ad blockers

Wikia is not accessible if you've made further modifications. Remove the custom ad blocker rule(s) and the page will load as expected.