Hydron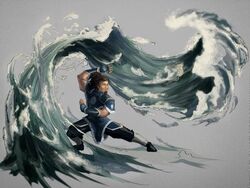 Hydrons were a race of
elementals
which manipulated the element of water. Their race were being enslaved by the
Cryons
.
Characteristics
Edit
They were a peace loving race, that used compassion instead of justice. They were mostly associated with the color blue, due to their connection with water. They have a deep connection with the creatures of the oceans.
Known Hydron
Edit
Abilities
Edit
Ink Manipulation
Lunar Manipulation
Aquawater Adaption
Rain Creation
Fog Generation
Bubble Generation
Ooze Generation
Water Affinity
Purification
Mind-Control Water
Elasticity
Duplication
Water Zone
Advance Abilities
Edit
Acid Manipulation
Blood Manipulation
Ad blocker interference detected!
Wikia is a free-to-use site that makes money from advertising. We have a modified experience for viewers using ad blockers

Wikia is not accessible if you've made further modifications. Remove the custom ad blocker rule(s) and the page will load as expected.