Name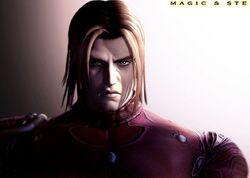 Vital statistics
Matredox Magnus was a minor antagonist in the
MG: The End Part 2
. He was the oldest son of
Exodus Magnus
, grandson of
Zekriah Magnus
, nephew of
Stevenson Magnus
and brother of
Corre
and
Nikora Magnus
. He was the leader of the
Nexus
. He was a
Ergon
Dox
. He was the reincarnation of his grandfather
Zekriah Magnus
.
He was introduced as a mysterious prodigy from Ladrones Academy along his team the Nexus. Since his arrival he had made enemies in Che Che, Chiki, Drake and Asmon Blade so he ordered his team to kill or covert and so they did. He had some type of relationship with Melissa Love. He was the most feared person at MG Academy and patrolled the school with his brother Corre. It was later revealed that he was the son of Exodus and was sent to infiltrate MG Academy. After the rise of the Dark Knights era, he and his team underwent vigorous training and was not seen doing anything else.
Personality
Edit
Matredox was a very dark and gloomy person who had no love for anyone and loves to kill and defeat his enemies.
Abilities
Edit
Ad blocker interference detected!
Wikia is a free-to-use site that makes money from advertising. We have a modified experience for viewers using ad blockers

Wikia is not accessible if you've made further modifications. Remove the custom ad blocker rule(s) and the page will load as expected.